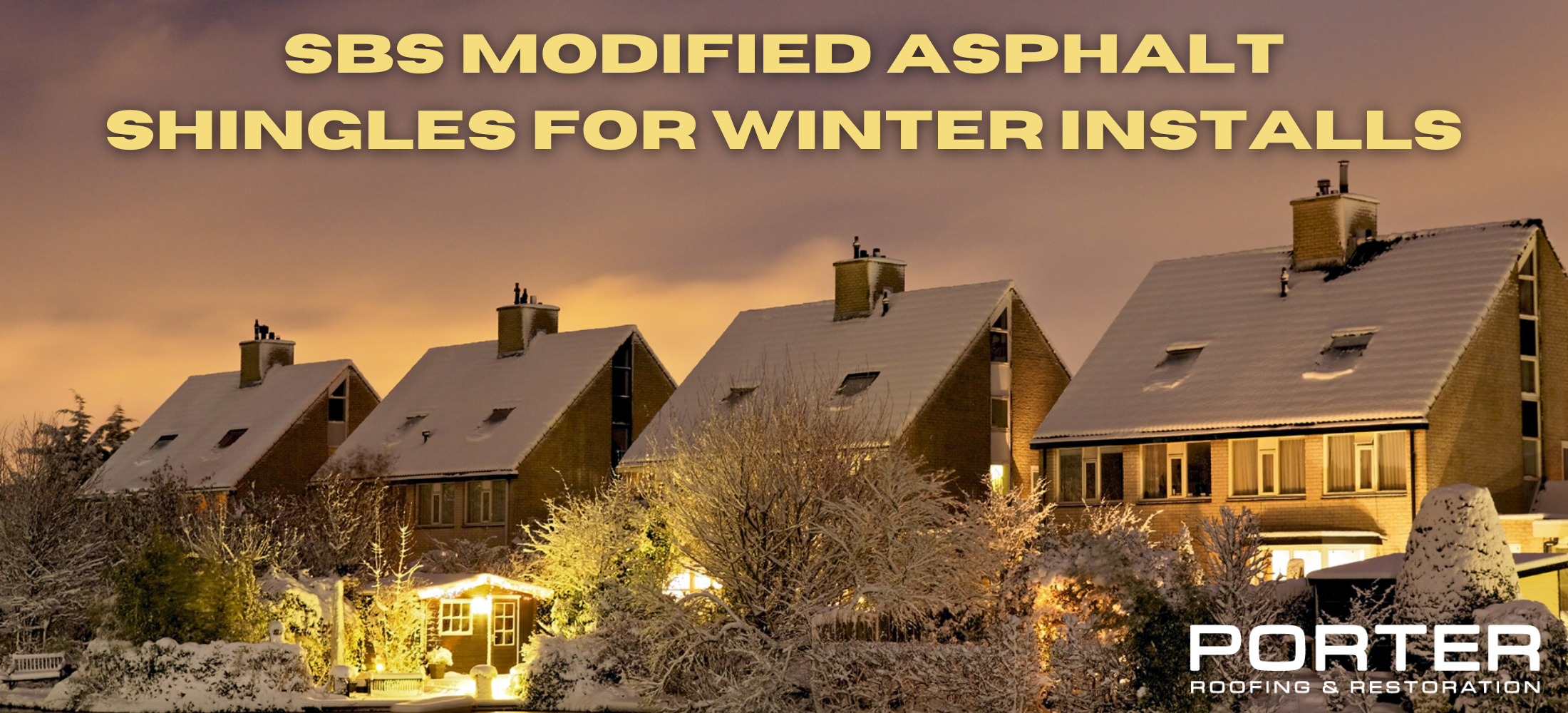 If you've lived in a colder climate like Central Indiana for any length of time, you've probably heard that you shouldn't install a roof in the winter. However, the rules have changed with SBS modified asphalt shingles, which can be installed at any temperature by the roofing experts at Porter Roofing & Restoration. SBS modified asphalt shingles have a number of other benefits as well, including impact resistance, higher tear strength and better granular adhesion. If you're in need of a new roof this winter, our crew can help!
Install SBS Shingles Anytime
The biggest advantage to going with an SBS modified asphalt shingle is that your new roof can be installed virtually any time of year. "SBS" stands for styrene-butadiene-styrene, which is a rubber-like polymer that improves the pliability and flexibility of these shingles, meaning that they aren't affected by cold weather like traditional asphalt shingles.
Standard asphalt shingles can curl or crack in colder temperatures, and the sealant may not fully adhere until spring. But with SBS shingles, you won't have to wait for the fickle Midwest weather to warm up before ensuring that your home is fully protected from the elements. We recommend installing your new roof when the outside temperature is at least 20° F or warmer for the highest quality from our crew members, but this still allows for installation practically any time of year!
More Durable Material
Speaking of protection, SBS modified asphalt shingles can offer first-class protection for your family's home. The built-in impact resistance will prevent damage from hail, debris or wind you might experience in an intense storm. And the higher tear strength of SBS shingles means that they are essentially immune to cracking, which you can sometimes see in traditional shingles from both cold weather and age.
Lay Flat in Winter Weather
No matter the temperature during your installation, with SBS modified asphalt shingles you'll notice them laying flatter faster thanks to their rubber-like flexibility. This means a faster installation time from your roofing crew, as well as a better protection for your home. Plus, you'll see a clean, finished look on your new roof, even in the dead of winter.
Available in Multiple Colors and Styles
You may be worried about your curb appeal when deviating from the "norm" with your shingles, but SBS shingles look just like your traditional asphalt shingles. In fact, you can find them in a huge range of signature colors from our roofing material partners. And with better adhesion, you won't have to worry when the next big storm hits… it will be much less likely that you lose any shingles and the outer beauty of your home will remain intact.
Often a Sustainable Option
Yet another benefit of the flexibility in SBS modified asphalt shingles is that they can better withstand the stresses of expansion and contraction from fluctuating temperatures. This means that you'll see a minimized loss of granules and better protection from UV rays. Investing in a better-quality shingle to protect your home now means bigger savings on repairs and utility bills in the long run. Plus, some roofing material providers use sustainable products in their SBS shingles to improve environmental impact over time.
If you have questions about our SBS modified asphalt shingles or would like to schedule a complimentary inspection for your roof, contact our office today

online

or at (317) 350-ROOF.